Ant-Man and the Wasp: Quantumania might play quite a big role in Marvel's next slate of stories, but a far smaller Disney venture walked so the Ant-Man trilogy could run: Honey, I Shrunk the Kids. If you share my age demographic, this 1989 cult classic might have graced your television sets, hooked you for life on Oatmeal Cream Pies, and scarred you for life over the fate of a forester ant. Honey, I Shrunk the Kids was directed by Joe Johnson and stars '80s icon Rick Moranis himself as a quirky scientist (of course!) whose shrinking device accidentally zaps his kids down to a quarter-inch tall. No single movie owns the size-changing idea and Ant-Man's clever antics are well worth the ensuing guffaw, but let's give credit where credit is due: the '80s did it best.
From the outside, Wayne Szalinski (Moranis), his wife Diane (Marcia Strassman), and their children Amy (Amy O'Neill) and Nick (Robert Oliveri), personify your average suburban middle-class family. They have a cute dog. High schooler Amy chats it up with her bestie on the rotary phone while making breakfast. Young Nick sneakily eats Oatmeal Cream Pies instead of breakfast. Wayne and Diane have some tension in their marriage, mostly due to Wayne's obliviousness about anything outside his inventions, but otherwise, it's a refreshingly healthy family dynamic. Amy and Nick snark without despising one another, Amy's interest in air boys and school dances doesn't as a paint , and both parents love their children.
RELATED: Kids Movies That Are Way Darker Than You Realized
The Szalinskis Are Their Own Kind of Normal in 'Honey, I Shrunk the Kids'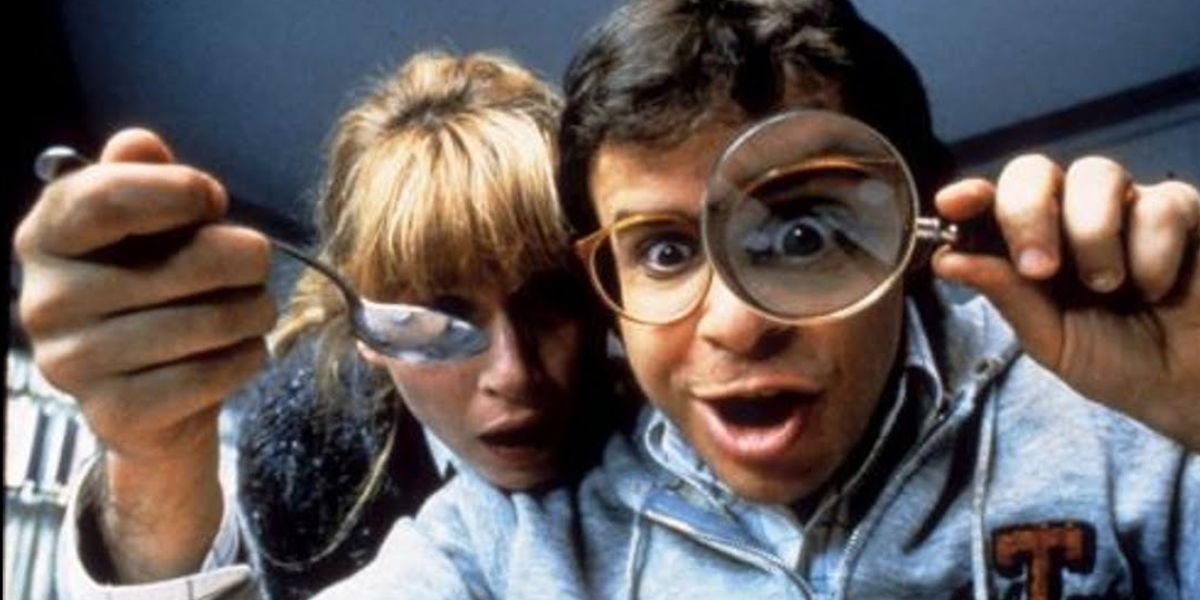 What isn't normal are the odd inventions littering the Szalinski home. The coffee machine with rotating panels, a kitchen-to-attic fax system, an automatic dog treat dispenser — the list continues. Each invention is integrated into the family's morning as casually as any regular household equipment, like a light switch or a toaster oven. Using zany objects is just business as usual for the Szalinskis, which tells the audience a great deal.
Likewise, the plot's inciting incident is as traditionally suburban as honking car horns or awkward summer cook-outs. Ron (Jared Rushton), the younger son of the Szalinski's next-door neighbors, accidentally hits a baseball through the Szalinski's attic window and activates the shrinking machine, the latter fact unbeknownst to the family. (to which Nick dramatically sighs, "This is what's wrong with the American system of justice"), the shrinker catches the two in its zone. Not long after, Amy and Russ (Thomas Wilson Brown), Ron's brother, meet the same doom.
RELATED: This Superhero Beat Ant-Man (And Other Shrinking Heroes) To The Punch
'Honey, I Shrunk the Kids' Combines Practical Effects with Creative Ideas
What's most impressive about Honey, I Shrunk the Kids is how it morphs everyday events into clever set pieces. The production crew used practical effects and in-camera tricks like forced perspective to contrast the quarter-inch-tall kids against props made to scale. Invisible dust bunnies are suddenly the height of Russ's , a toy dinosaur makes for an impressive skyscraper, a passing butterfly might as well be Mothra descending for a snack, and unmowed grass strands turn the Szalinski's yard into an unfathomably tall jungle. The children use a lost Lego piece as our enormous f bunk bed, and an Oatmeal Cream Pie takes up the height and width of several cars. The filmmakers obviously planned these sets with care. Even though CGI's abilities were limited in 1989, choosing practical efforts over computer graphics gives git ac everything a sense of
Once the kids wind up at the yard's fence line (more on that later), making it back to their house is a simple goal made dangerous. At their size, they're the equivalent of 3.2 miles from the house, a trek that demands time and effort and is compounded by unfriendly local wildlife along the way. Few people ever want to encounter a scorpion, but imagine those stingers at a quarter-inch high. Nick's plummet into a bed of flower pollen doesn't affect his allergy (the pollen's too big for him to inhale), but the relief's short-lived when a bee takes him on a joyride. The action set pieces more than match the production design's terrific creativity.
No, the Kids Aren't in Real Danger — But 'Honey, I Shrunk the Kids' Is Still Freaky
When it comes to high stakes, a PG-rated Disney/Buena Vista production would sooner stop the Marvel juggernaut in its tracks than inflict permanent harm to a fictional child. But family-friendly stories with young protagonists should still commit regardless of their outcome, and oof, does Honey, I Shrunk the Kids not hesitate when it comes to action-adventure risks. Scott Lang (Paul Rudd) changes size at will thanks to a handy-dandy button, but these kids are helpless to common events that become lethal dangers when you're too small to be seen by the naked eye. Wayne sweeping the attic floor, for example: the wooden planks shaking is tantamount to an earthquake, and the broom's mighty power proves inscapable, trapping the kids between its bristles. When Wayne dumps the trash into a bag and takes it to the fence line, kids in tow, he unintentionally invented the world's worst ro . The sprinkler system hammers down water drops with the weight of missiles and knocks Amy into a mud ravine, where she almost drowns. Once she's conscious again, there's a noticeable lack of the typical sarcastic quip. frightened little brother.
Then there's the lawnmower. Deadly blades whipping up a frenzy isn't terrifying enough, oh, no; the subsequent wind speed tosses the children around like they're the unfortunate cows from Twister. Worst of all is Nick falling into his dad's morning cereal and Wayne nearly committing cannibalism. The trash, the sprinklers, eating breakfast — such thoughtlessly average and prosaic activities. Put this concept into different hands, and we'd have a genuine horror movie. But there's no big-bad villain to thwart, only a family wanting to be reunited.
(Perhaps unexpectedly, the film's co-writers Stuart Gordon and Brian Yuzna both specialized in horror. Gordon directed the horror-comedy cult classic Re-Animator while Yuzna oversaw several weird, wild horror franchise sequels like Bride of Re-Animator and Silent Night, Deadly Night 4: Initiation.)
'Honey, I Shrunk the Kids' Made the Most of Its Shrinking Device Idea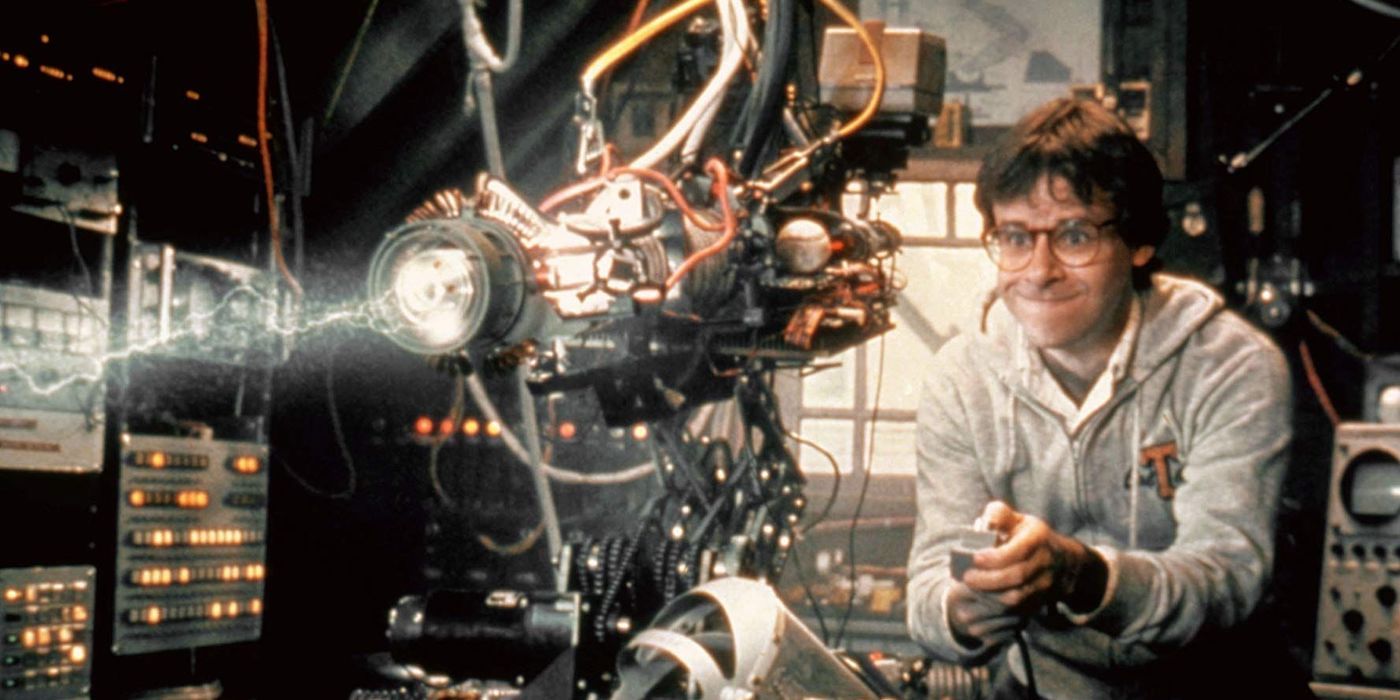 Speaking of parents: Wayne and Diane aren't left in the cold when it comes to inventive situations that make the most of the film's concept. Wayne quickly pieces together why his kids vanish, and his knowledge enhances the film's comedic flair. For guffaws, look no further than Wayne scanning his backyard with high-powered binoculars while balanced precariously on stilts, followed by a pulley system counterbalancing his weight against that of a television. He slowly spins around, calling his kids' names with his face aimed towards the . Once Diane's clued into the problem, she takes the TV's place as his counterweight, and they spin and spin. (This leads to the film's best line, uttered by a gum-smacking housewife with '80s hair that's the opposite of shrunken. She watches from the sidewalk as Wayne floats in and out of view: "Donald," she tells her husband, perfectly nonchalantly, "that man over there is flying.")
For a gimmick-based movie, Honey, I Shrunk the Kids' storyline feels logically thought-out and as accurate about the unwanted results of a size-altering ray gun as possible (until society inevitably invents a real one). The Ant-Man films are underrated romps with fantastic creativity, and that's due to movies like this one where the idea is satisfactorily realized and the ingenuity's off the charts.