The Boos are back for a new school year, as Paramount+ and Nickelodeon's sequel to Monster High: The Movie gears up to release later this year. As part of the 2023 Kids' Choice Awards, Collider is excited to exclusively debut the first teaser for Monster High 2and announce that the movie will release in the Fall. A more specific release date has yet to be revealed.
Monster High: The Movie is the first live-action take on the franchise, joining a number of animated movies and the currently running animated series. It is based on the Mattel franchise that focuses on the children of iconic monsters and creatures. The first movie follows Clawdeen Wolf (Miia Harris) who starts at Monster High carrying a heavy secret. With the help of her new friends Frankie Stein (Ceci Balagot) and Draculaura (Nayah Damasen), Clawdeen learns to embrace herself and save the school.
For the time being, major plot details for Monster High 2 are being kept under wraps. The first look teases that the sequel will continue its focus on Clawdeen and her friends, and will also be a musical. The teaser primarily focuses on everyone's excitement on returning to Monster High, with several reunions abound. , Clawdeen, Frankie, and Draculaura are ready to have "the best year ever." From the looks of it, most things seem to go their way. However, the end of the clip teases a mysterious new threat to the trio, as an Ominous voice watching them says, "it's time." Most details about the person are quite vague, save for their hands, a crystal ball, and what looks to be a couple of other people in the room.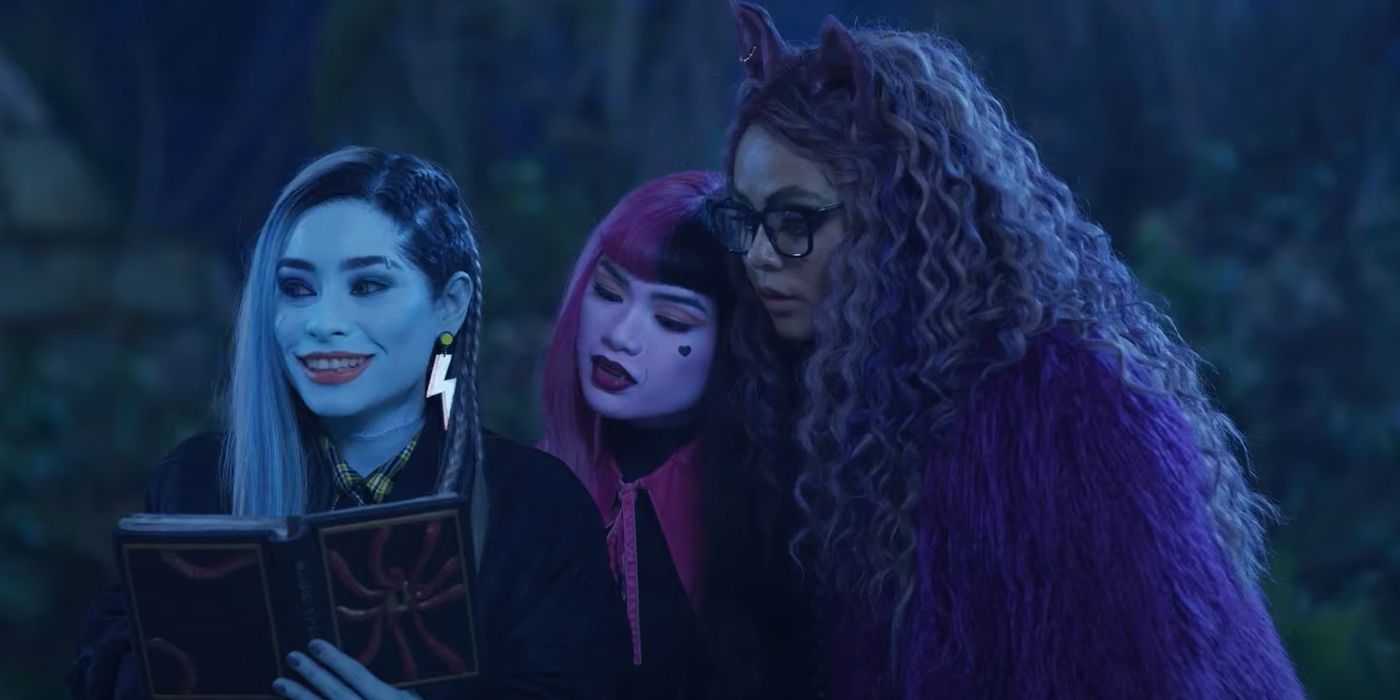 RELATED: Nickelodeon Kids' Choice Awards 2023 Nominees Include 'Top Gun: Maverick' and 'Obi-Wan Kenobi'
Like its predecessors, Monster High 2 aims to maintain the franchise's positive messaging for audiences. In a previous statement, Zack Olin and Shauna PhelanCo-Heads of Nickelodeon & Awesomeness Live-Action, confirmed this, saying, "Monster High's message of embracing one's unique self is as important as ever and we look forward to expanding the stories of these fan-favorite characters."
The Monstrous Team Behind Monster High 2
Todd Holland returns to executive produce and direct the teleplay written by returning duo Matt Eddy and Bill Eddywith all three credited for the story. Holland executive produces alongside Fred Soulie (Senior Vice President & General Manager of Mattel Television), Phil Breman (Vice President of Live Action Development at Mattel), and Adam Bonnett. Additional cast includes Case Walker, Marci T. House, Steve Valentine, Jy Prishkulnik, Scoth Ellis Loring, Lina Lecompte, Justin Derickson, Lilah Fitzgeraldand Nasiv Sallamong others.
Monster High 2 premieres sometime this Fall on Nickelodeon and Paramount+. Watch the teaser below: